Skip bins Canterbury, NSW - book online for fast delivery.
We're really sure you'll love our skip bins Canterbury, New South Wales.
New to smart rubbish?
Mobile Skips®
have you covered. We'll deliver your skip bin in 3 hours around Canterbury, you can change your order anytime, and even return the bin for free.

Order your skip bins online for delivery in just hours in Strathfield — where and when you want it.

When your plans unexpectedly change with your skip bin hire, so do we — and you'll get a free extension.

Change your mind – even after delivery — and we remove the skip bin with no fee.

Skip bins that make people happy in Canterbury and Sydney - Inner West.
It's why over a thousand customers have loved our skip bins and rated us 5-stars. Eliminating all their unwanted household waste, green waste, construction waste and virtually anything that will fit in our 4 meter skip bins. Great service stems from our value of giving'celebrity service' right through the whole journey. We love doing it, and we hope you will love it too.
We take (almost) all types of rubbish.
Whether it's a spring clean, or following a satisfying DIY job there is always household rubbish that needs to get rid of.
Mobile Skips will provide fast to all suburbs in Melbourne, Adelaide, Brisbane, Geelong, Sunshine Coast, Sydney Mornington Peninsula along with Perth.
Book online today and we'll be there over 3 hours to pick up all your unwanted household rubbish.
What you can put in:
What you can not put in:
Taking delivery of your 4 cubic meter skip bin.
We'll deliver your Mobile Skip to your house, anywhere it is possible to park a car. Don't worry, unlike conventional skips there will not be any damage to your yard or driveway!
Our skips are four cubic meters and as standard will hold 500kgs. With fixed pricing for 2 days (3 over a weekend), it's perfect for a household clear-out.
Contact Us now to find out more about availability and rates to assist you with your next big removal.
Collection and recycling.
You may be rest assured that at Mobile Skips, we are proud to get rid of your waste in a sustainable and responsible way. Our bin design allows for better recycling and sorting.
We know delivery isn't suitable for everybody, so we've partnered with Bunnings. You'll find our Mobile Skips in their car parks where you can grab yours and be on your way!
Our skips come back to the depot for emptying and weighing. We then transfer it to our registered recycling plants for sorting and recycling. Each year, we're seeing 1000's of tonnes diverted from landfill.
In addition, we have our heavy skip which will store 1000kg. This is ideal for home renovations or builder's waste. And, in case you want our skips longer, you may keep them as long as you need it for only $15 extra per day.
Pick the right skip bins in Canterbury.
Skip bin hire in Canterbury doesn't have to be difficult. Just pick the skip which suits your needs and we'll do the rest.
Our skip bins are great for (just about) any sort of job in Canterbury.
Event Waste skip bins – The ordinary music festival generates over 23,500 tonnes of waste. As an event planner, it's easy to focus on the more fun details of event management like venues, decor, and promotional activities. Yet, as that number suggests, waste management is an incredibly large part of the job.
Hard rubbish is made up of big items which can't fit in a normal rubbish bin and are usually rather significant. Items like fridges, washing machines, sofas, cabinets, wardrobes, televisions, furniture computers, mattresses, construction material and similar things (Hard Rubbish). Hard rubbish collection doesn't include recyclable items, green waste or regular household rubbish.
Home renovation skip bins – Whether you're sick and tired of your old bathroom or your kitchen needs an upgrade, home renovations can be a huge job. As you contemplate the wonderful selection of glossy designs and new substances, don't forget that doing Any Sort of renovation leaves Lots of waste behind.
Construction waste skip bins – comprises wood, concrete, plasterboard, bricks, asbestos, vegetation, stone and soil. Although most of the waste is generated by the construction and demolition sector, building and renovating houses also leads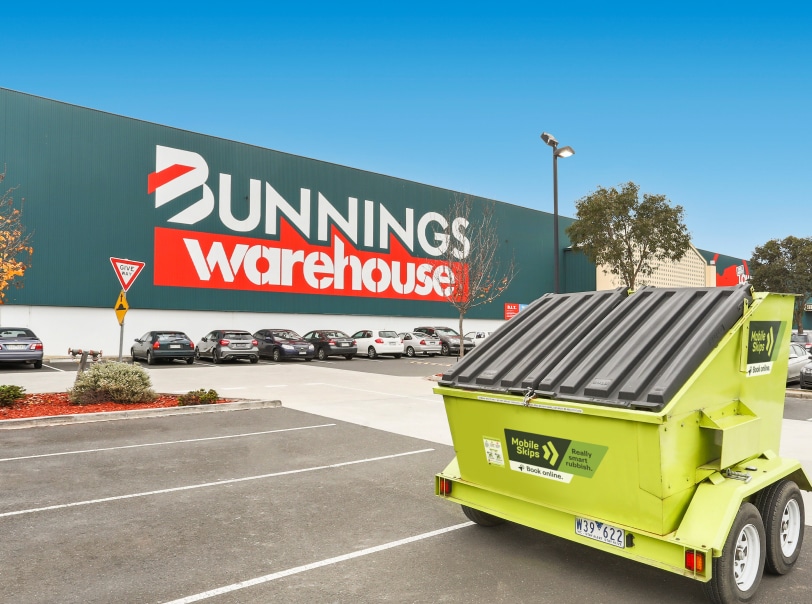 Two Aussie icons walked into a carpark… Not really.
But we did partner up with Bunnings to offer skip bins at carparks around Strathfield.
Skip bin hire direct from Bunnings in Canterbury and throughout Strathfield, 7 days a week.
Bunnings stores closest to Canterbury where you can tow away a Mobile Skip™.
Surrounding suburbs that we deliver skip bins to in Strathfield.
Smart rubbish removal starts here in Canterbury.

Hire a skip online, 3-hour delivery in Strathfield, choose your ideal time, delivered on-time by friendly owner-operators.

Skip bin hire in Strathfield without permits, park anywhere, all rubbish, secure lids-change your booking anytime with no fees.

Strathfield skip bin hire at fixed-price, no surprises, big value-backed by national service and Bunnings.
Clever skip bins for hassle free rubbish removal
Skip bins aren't all created equal.
Whether you're having a clear out or doing renovation work, Skip bins are often the best method to take care of your rubbish. But old fashioned Skip bins are big, costly and can be a nightmare to organise. Would not it be great if there was a way to avoid all the problems?
Rather than having to select between general waste Skip bins, building Skip bins or green waste Skip bins, Mobile Skips® would be the solution.
We take almost every kind of rubbish, just nothing harmful or overly thick. A Mobile Skips® can match anywhere that matches a car or trailer. Whether that is your garage, carport, or underground car park.
This makes them perfect for those tight spaces or storing them from the way of your everyday life.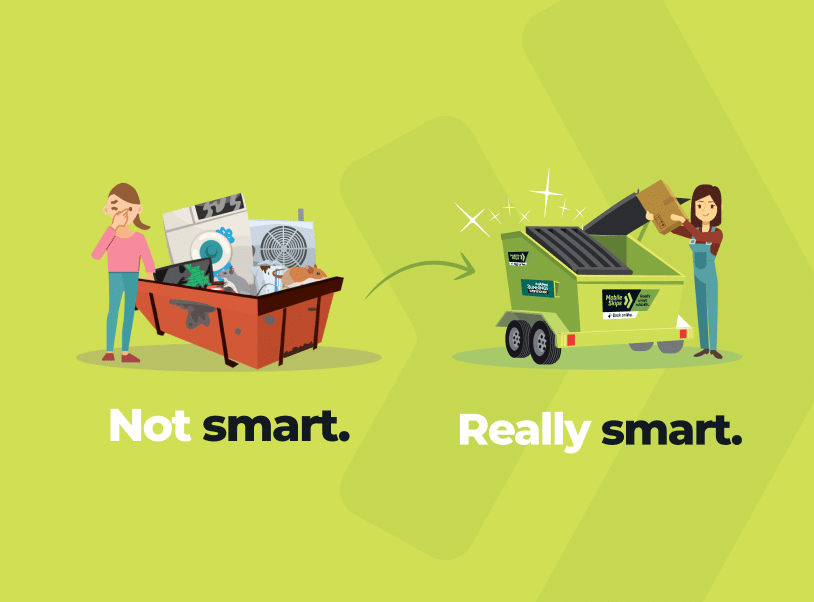 Frequently asked questions about skip bins in Canterbury, New South Wales?
Just how much is the skip hire in Canterbury?
We have fixed costs without a tear offs to give you reassurance. Our pricing changes by each town around Australia (due to the wholesale price of recycling). You are able to get instant price at mobileskips.com.au.
How long can I get it for?
Our typical hire length is just two days (or 3 days over the weekend) but you can have it as long as you require for only $15 extra per day.
Do I need to receive a council permit to have it parked on the road?
No, Mobile Skips® offer skip hire without any permits as our bins are mounted onto a registered trailer. So, they can be left wherever it is legal to park a car. Hassle free.
What happens to the rubbish once you pick it up?
Our skip bins have been return to our depot where they're emptied & weighed. The waste is transported daily to our registered recycling facilities for sorting & recycling. Learn more at our surroundings page .
How much 'heavy stuff' I could put into a Mobile Skip bin?
'Heavy stuff' is material like sand, soil, concrete, bricks, tiles, pavers etc.. No more than one wheel barrow load at a Standard Skip and up to 5 wheel barrow loads in a Heavy Skip. Read more – waste types page.
How much notice do you want to book a skip hire?
Most often if you reserve in the morning we can have you delivered on precisely the same day within 3 hours. If you're planning ahead, best to book in a time slot to ensure you receive the skip when you need it.
Can I move it myself if I need to?
Yes, if you have a car with a tow ball you are able to move the Mobile Skip, you may want to be careful once you have begun loading it depending on the towing capacity of your car. Check out our trailer safety guide here.
What makes our really smart skip bin hire tick?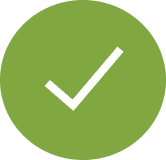 Really simple, really smart—our skip bins get into tight spaces with no driveway damage and no permits.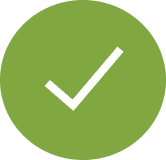 Lockable lids mean your skip bin is all yours—no hassles with random dumping or nosey neighbours!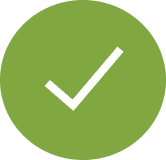 Don't let their neatness fool you—our 4 cubic meter skip bins take four full 6' x 4' trailer loads of rubbish.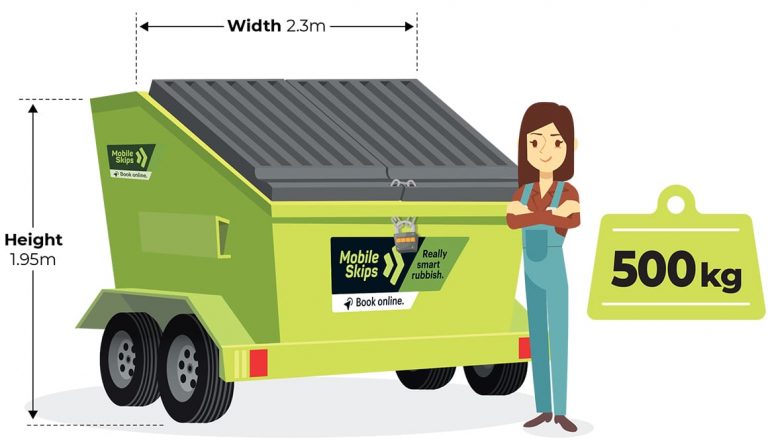 4 cubic metres : Standard skip bins
Prices from : $449 – 2 days hire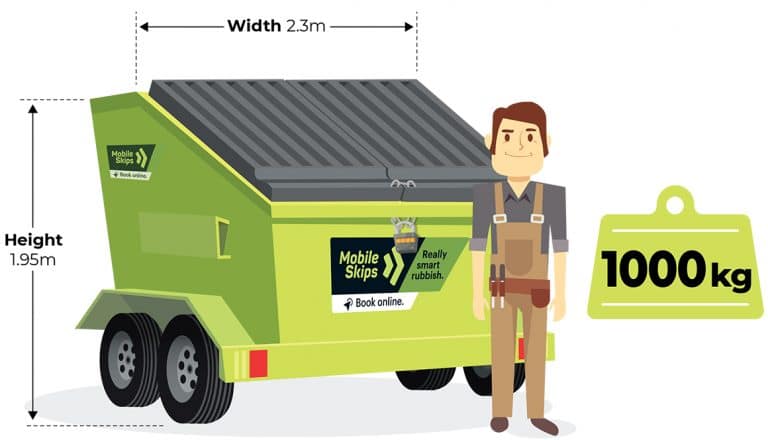 4 cubic metres : Heavy skip bins
Prices from : $499 – 2 days hire

Hiring a skip shouldn't trash the planet.
Our rubbish removal is backed up with environmentally responsible disposal—recycling instead of landfill.
Registered partners to recycle and process the waste properly —proper sorting, diversion and recycling materials which may be reused to contribute to the circular economy.
Play your role in caring for the environment! Reserve a skip bin using Mobile Skips® today today and ensure that your waste will be disposed of at an eco-friendly way, recycling in Canterbury.

Trade or Commercial Waste in Strathfield?
Looking for a better alternative for the rubbish on customer jobs? Sick of not getting the service your business deserves?
Mobile Skips have skip bins for every type of job, large or small. Home renovations, building waste skip bins, gardening tasks as well as also the green waste they create.
Additionally, the local franchisee in Canterbury is just around the corner and standing by to deliver a skip bin quickly from our fleet of smart Mobile skip bins.
Really smart rubbish makes clearing out a breeze.
Order online for a 3-hour skip bin delivery—you don't even have to be home during delivery.
From garage clean-outs to building rubbish, from household waste to green rubbish.
Street parking without permits, trailers save your driveway, and fit in garages and other tight spaces.
Check out related information for rubbish removal in Canterbury NSW
Some facts about Canterbury, Sydney - Inner West, New South Wales
Canterbury is a suburb extending across south-western Sydney and the Inner West, in the state of New South Wales, Australia. Canterbury is located 10.5 kilometres (6.5 mi) south-west of the Sydney central business district in the City of Canterbury-Bankstown.
The former City of Canterbury took its name from the suburb, however its administrative centre was located in the adjacent suburb of Campsie, which is also a large commercial centre.