Skip bin hire for garden, green and organic waste.
Wondering what to do with grass clippings? What about leaves and branches? These items are considered green waste and can be easily composted or disposed of.
Green waste, also known as organic or biological waste, decomposes in landfills and may affect the environment. Although it's not as harmful as e-waste, plastics, or chemicals, it still carries risks.
One way to dispose of green waste is to use skip bin hire services. First, make sure you know what qualifies as green waste and what doesn't. This will allow you to choose the right type of skip bin and do your part to protect our planet.
However, with a few quick tips, you can make getting rid of green waste simply.
Thats really smart rubbish.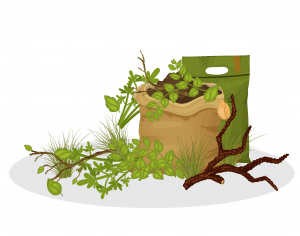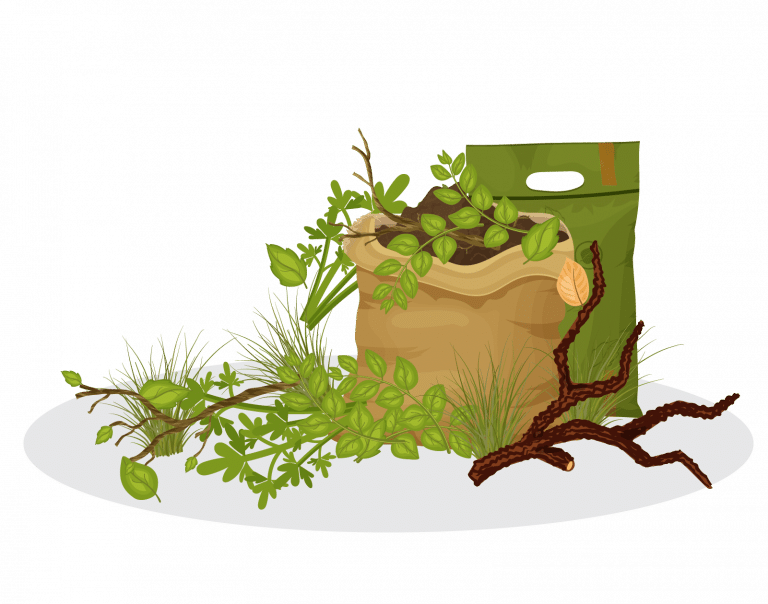 You're busy, you're ready, your time matters.
No more waiting for days, or getting stood up.

Things change, schedules change, bins should change.

You booked it, but you don't need it. So don't pay for it.
Gardening is a good way to relax and connect with nature. Few things are more satisfying than growing your own food and seeing how a tiny seed turns into a mighty tree. Like everything else, this activity requires some planning.
Take garden waste removal, for example. You can't simply put lawn clippings, branches, and leaves into the trash bin and forget about them.
Green waste can become a hazard if handled inappropriately. It could catch fire, contaminate the water, block the drains, or alter biodiversity. But what is green waste in the first place?
The term "green waste" defines any organic waste that can be recycled via the composting process. It accounts for 12 per cent of all organic waste in Australia. Once recycled green waste, it can be used to create products that improve soil health.
Green waste material includes pretty much everything that comes from your backyard or garden. Lawn clippings, loose bark, weeds, branches, sticks, and trees are just a few examples. Floral decorations, hedge trimmings, and Christmas trees fall into this category too.
Garden chemicals, such as pesticides and herbicides, are not green waste. The same goes for treated or coated wood, rocks, metal, glass, dirt, or bricks. Therefore, you cannot put them out for green waste collection.
When you use skip bin hire services, green waste is transported to recovery facilities where it's composted over several weeks to kill pathogens and weed seeds. Then it's used to improve soil productivity, suppress weeds, and more.
Green waste composting has been shown to suppress root rots and other soil-borne diseases. Furthermore, it nourishes growing plants and can be used to produce biogas, which can be used as biofuel.
How does green waste affect the environment?
This type of waste is beneficial only when recycled or composted. If it ends up in landfills, it can pollute the air, soil, and water.
Nearly 7 million tonnes of organic waste, including green waste, was sent to landfill between 2016 and 2017. Methane, a greenhouse gas produced when organic waste decomposes in landfills, can cause fire and affect air quality.
Weeds, tree branches, and other green waste materials often make their way into the water system, leading to contamination. Additionally, it may prevent native plants from getting enough sunlight, altering the local flora.
Green waste disposal is easy with Mobile Skips.
Skip bin hire services make it easy to manage green waste and ensure it doesn't end up in landfills. Our mobile skip bins can handle all types of rubbish, except for chemicals, e-waste, and other dangerous materials. Plus, they are highly portable and fit into tight spots.
A standard skip bin can accommodate up to 500 kilograms of waste, including garden organics. With its patented design, it allows for better sorting and recycling.
Hazardous Materials:  Asbestos, chemicals, poisons, batteries, paint, food & biological waste.

Large Trees:  Palm tree trucks and large tree trunks over 200mm in diameter.

Heavy Stuff:  Sand, Soil, Bricks and Concrete.
Related articles about green waste.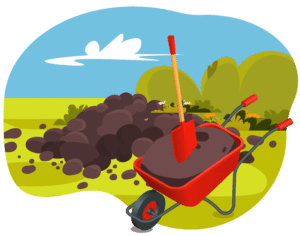 Having a green finger can sometimes get you in very untidy situations. Just one day of gardening can make your house look like a terrible accident scene. Apart from the twigs and leaves sticking everywhere, you always have so much
Read More »
We're almost everywhere in Australia.
And if we're not near you yet, we soon will be.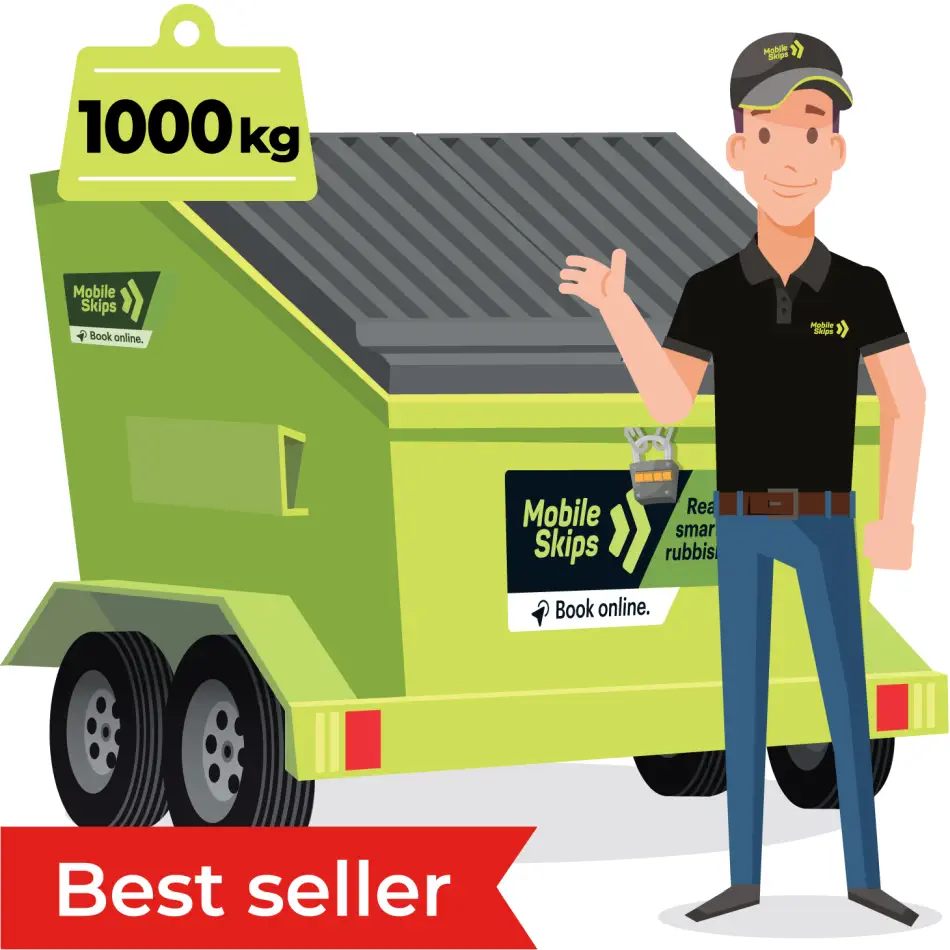 4 cubic metres : Heavy Skip Bin
Great for builder's waste
Up to 5 wheelbarrows of 'heavy stuff'
1000kg included in price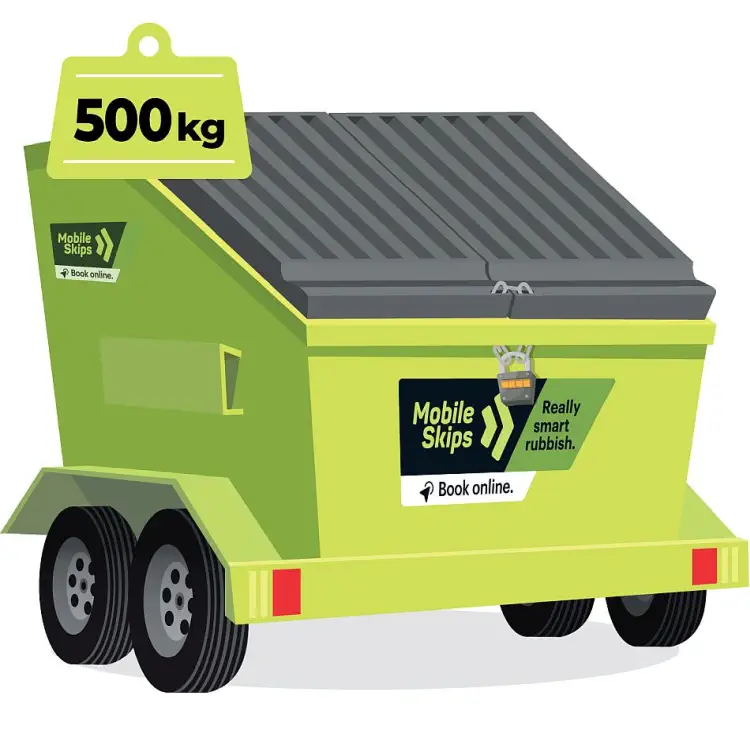 4 cubic metres : Standard Skip Bin
Perfect for general household cleanup
Up to 1 wheel barrow of 'heavy stuff'
500kg included in price
4 cubic metres : Heavy Skip Bin
Great for builder's waste
Up to 5 wheelbarrows of 'heavy stuff'
1000kg included in price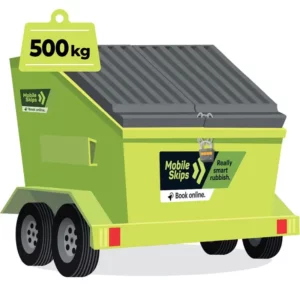 4 cubic metres : Standard Skip Bin
Perfect for general household cleanup
Up to 1 wheel barrow of 'heavy stuff'
500kg included in price